Presentation
"He leaped the fence, and saw that all nature was a garden."
Horace Walpole,
Essay on the modern art of gardens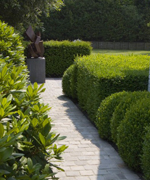 Plant Consult
Philippe Renac chose the countryside around Genappe as the base for his business.
He hired landscapers to computerise plans and handle office management. He also took on a botanist with expertise in colours to develop plantation studies.
Philippe Renac
Frenchman Philippe Renac has been developing gardens in Belgium and abroad for almost 20 years, always conscious of his client's wishes.
Process
Over the years, Philippe Renac has always sourced the best experts, gradually building up a network of quality businessmen and women able to help him in his diverse assignments and develop themes that illustrate the concepts he has in mind, at all times following the wishes of his clients.
He has successfully forged and maintained close relationships with leading suppliers and specialist nurseries.